The Gorgon Project is developing the Gorgon and Jansz-Io gas fields, located within the Greater Gorgon area, between 130 and 220 kilometres off the north-west coast of Western Australia. The Project is under construction on Barrow Island, some 60 kilometres off the north-west coast of Western Australia. A subsea gas gathering system and pipelines will deliver gas from the gas fields to a three-train, 15.6 million tonnes per annum (MTPA) Liquefied Natural Gas (LNG) plant on Barrow Island for processing.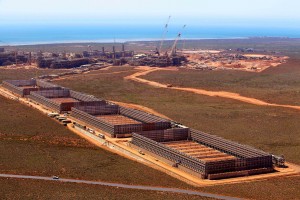 The Project also includes a domestic gas plant with the capacity to provide 300 terajoules of gas per day.
Gorgon LNG will be off-loaded via a 2.1 kilometre long loading jetty and transported to international markets. The domestic gas will be transported to the mainland via a 90 kilometre pipeline, connecting into the existing Dampier to Bunbury Natural Gas Pipeline.
The Gorgon Joint Venture is investing approximately $2 billion in the design and construction of the world's largest commercial-scale carbon dioxide injection facility to reduce the Project's overall greenhouse gas emissions by approximately 40 percent per year.
The Australian Government has committed $60 million to the Gorgon Carbon Dioxide Injection Project as part of the Low Emissions Technology Demonstration Fund.
The Gorgon Project is operated by an Australian subsidiary of Chevron and is a joint venture of the Australian subsidiaries of Chevron (47.3 percent), ExxonMobil (25 percent), Shell (25 percent), Osaka Gas (1.25 percent), Tokyo Gas (1 percent) and Chubu Electric Power (0.417 percent)